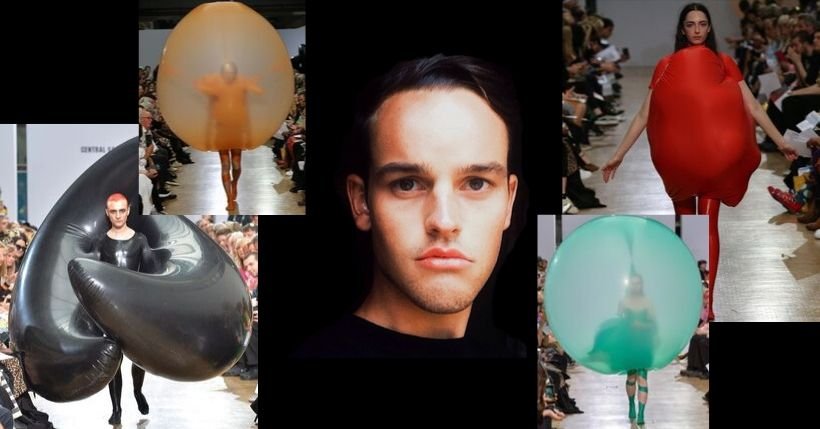 In bilico tra sogno e realtà, gli abiti palloncino di Fredrik Tjaerandsen hanno conquistato il mondo della moda e dell'arte
Vedere un palloncino volare è uno spettacolo incantevole. Il palloncino ispira libertà, magia, mistero e non importa se si è adulti o bambini, sarà sempre impossibile distaccare lo sguardo dal suo fluttuare libero nel cielo. Il giovane designer Fredrik Tjaerandsen è riuscito a trasportare questo immaginario nel mondo della moda, ricreandolo con i suoi meravigliosi abiti palloncino.
Foto copertina: courtesy of @fredriktjaerandsen
Chi è Fredrik Tjaerandsen
Fredrik Tjaerandsen è un giovane designer norvegese che si è da poco laureato al Central Saint Martins College of Art and Fashion di Londra. Durante la sua sfilata di laurea Fredrik Tjaerandsen ha presentato le sue eccentriche creazioni facendo impazzire il pubblico, così estasiato che ha condiviso subito sui social i video della sfilata. Fortunatamente sono diventati subito virali, facendo letteralmente il giro del web in pochi secondi. Un successo clamoroso che dopo la sfilata lo ha portato a vincere il L'Oreal Pro Talent Award e ad essere contattato da personalità di spicco del mondo della moda.
Gli abiti palloncino
Gli abiti di Fredrik Tjaerandsen sono delle vere e proprie sculture. I modelli arrivano in passerella avvolti da un palloncino, che una volta sgonfiato rivela i dettagli e gli accessori in gomma che danno vita all'abito vero e proprio. Alcuni degli abiti invece non vanno sgonfiati, i palloncini sono parte integrante della composizione del vestito.
Gli abiti della collezione non sono delle semplici sculture "usa e getta", ma possono essere gonfiati e indossati più volte, sia come abito che come palloncino. Oltre all'estetica, Fredrik Tjaerandsen ha un occhio di riguardo anche per l'ecosostenibilità: le sue creazioni sono realizzate con una gomma proveniente da un'azienda dello Sri Lanka che si rifornisce dai lavoratori del posto.
Un momento estremamente simbolico
Il vero momento clou delle sfilate di Fredrik Tjaerandsen è l'attimo in cui in un vortice d'aria il modello si libera e il palloncino prende finalmente la sua forma finale.
La trasformazione da palloncino ad abito per il designer simboleggia il passaggio dai ricordi offuscati dell'infanzia alla consapevolezza di essere vivi e senzienti. Quando si entra nel palloncino le sensazioni sono ovattate e oniriche, esattamente come i ricordi di un bambino.
La mia collezione è ispirata da un momento quasi indefinibile in cui l'autocoscienza di un umano diventa attiva e senziente, ho cercato di sviluppare un processo di pratica e sviluppo sperimentale attraverso il quale ho potuto reagire e creare la mia espressione di questo momento e l'esperienza di essere in quel momento.
Per Fredrik Tjaerandsen stare nel palloncino è una sensazione piacevole, ma che deve lasciare spazio al momento della consapevolezza. Sulla passerella il palloncino viene sgonfiato, i ricordi smettono di essere offuscati e la coscienza prende il sopravvento, facendoci capire di essere senzienti e mostrandoci finalmente al mondo per quello che siamo.