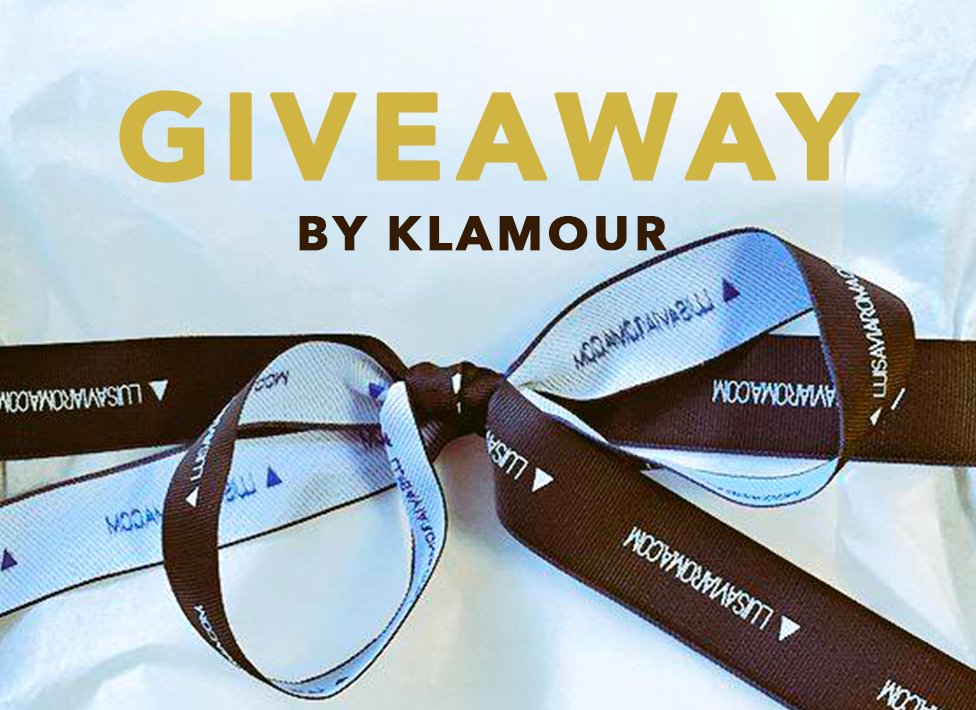 Klamour regala una "virtual gift card" del valore di 100 euro da spendere sul sito Luisa Via Roma – Termini e condizioni
---
1. SOGGETTO PROMOTORE: Advise S.r.l. , per il progetto editoriale Klamour.it
2. PERIODO: Il periodo di validità per partecipare al giveaway è: dal 01/08/19 al 06/08/19. L'assegnazione premi avverrà il giorno 09/08/19.
3. PRODOTTO/SERVIZIO: Regalo – o giveaway – per i fan della pagina Instagram @klamourmag. In osservanza delle regole di Instagram, si specifica che non si tratta di un concorso, l'operazione non è in alcun modo sponsorizzata, amministrata o associata da Instagram né dai marchi citati.
4. AREA DI DIFFUSIONE: Valido per i paesi membri dell'Unione Europea.
5. DESTINATARI: Persone fisiche maggiorenni e residenti/domiciliati nell'area di diffusione del concorso. Non possono partecipare alla promozione i dipendenti/collaboratori della Società. Saranno scartati dall'estrazione sia i profili falsi che quelli creati appositamente per i giveaway.
6. MODALITA' DI PARTECIPAZIONE: La Società veicolerà attraverso il social network Instagram, la possibilità di vincere un buono del valore di euro 100. Somma spendibile presso lo store online https://www.luisaviaroma.com/it-it/. I destinatari del concorso potranno partecipare rispettando le istruzioni che verranno fornite nel post di riferimento del giveaway. La procedura per partecipare al concorso è la seguente:
1- Seguire l'account @klamourmag.
2- Commentare il post dedicato al giveaway taggando almeno 3 amici.
3- Scrivere nel commento il proprio brand di abbigliamento preferito.
Verranno esclusi dal concorso tutti gli account falsi e/o quelli creati appositamente per iniziative del genere. Il premio verrà assegnato attraverso un'estrazione casuale, stabilita dal sistema random.org.
Tutta la procedura di estrazione sarà documentata sul profilo instagram di Klamour, nella sezione dedicata alle "storie", dove verrà annunciato il vincitore. Il suo nome verrà infine riportato nel medesimo post dedicato al giveaway, sul profilo ufficiale @klamourmag.
Il premio sarà messo a disposizione entro 10 giorni dal ricevimento della documentazione di accettazione/cessione.
7. PREMIO: Il regalo per i fan consiste in una Virtual Gift Card di Luisa Via Roma, del valore di 100 euro. La card – come indicato sul sito ufficiale – ha validità di 12 mesi dalla data dell'invio della e-mail di conferma. Può essere usata per uno o più ordini ed è spendibile anche per ordini di valore superiore all'importo caricato sul buono.
8. TRATTAMENTO DEI DATI PERSONALI: Con la comunicazione, il vincitore presta il necessario consenso al trattamento dei dati personali forniti per tutte le finalità relative al presente concorso, ai sensi e nel rispetto della D.Lgs. n. 196/2003 "Codice in materia di protezione dei dati personali". Con la conferma dei dati anagrafici, i vincitori prestano altresì il consenso a fornire – in privato – gli estremi necessari per ricevere l'omaggio.
---
Social Media Giveaway Terms and Conditions for Klamour.it
1.PROMOTER COMPANY: Advise S.r.l., for the Klamour.it publishing project.
2. PERIOD: The validity period for participating in the giveaway is: from the first day of August to the sixth in the same month 2019. The winner will be announced on the 8th of August.
3. PRODUCT / SERVICE: This giveaway is intended for followers of the Instagram page @klamourmag. In accordance with the rules of the social network, we have stated that this is not a raffle competition. Our action is not in any way sponsored, promoted or associated with Instagram or the brands mentioned.
4. DIFFUSION AREA: The Klamour giveaway is valid throughout the entire EU territory. Those living outside of the EU are automatically excluded from this social media contest.
5. WHO CAN BENEFIT FROM THE GIVEAWAY? Individuals of legal age and residents who currently live in the interested area. Employees/collaborators with the Company cannot participate in the challenge. Fake profiles and those created specifically for giveaways will be automatically discarded from the draw.
6. HOW TO PARTICIPATE: The company is giving the opportunity to win a 100 euro voucher. The voucher can be spent on the online store, https://www.luisaviaroma.com/it-it/. Taking part in the competition is easy and free. The promoter company will provide instructions in an Instagram post. In broad terms, here is a draft version of the procedure:
1- Follow the @klamourmag Instagram account.
2- Write a comment below the post dedicated to the giveaway, tagging at least 3 Instagram contacts.
3- Write your favourite clothing brand in the comment.
Remember: All fake accounts created specifically for such initiatives will be excluded from the competition. The gift card will be awarded through a random draw, established by the random.org system.
The winner will be announced on the Klamour Instagram profile. The gift card will be activated within 10 days after being claimed by the winner.
7. PRIZE: A €100 virtual gift card from Luisa Via Roma. The card – as indicated on the official website – has a period of validity of 12 months, starting from the date on which the confirmation e-mail is sent. It can be used for one or more orders and can also be used towards any product sold on the official Luisa Via Roma website.
8. TREATMENT OF PERSONAL DATA: With the acceptance of the gift card, the winner gives the necessary consent to the processing of personal data provided for all purposes relating to this competition and in compliance with Legislative Decree no. 196/2003 "Code regarding the protection of personal data". By confirming the personal data, the winner also gives his/her consent to provide – in private – the necessary information to receive the gift card.